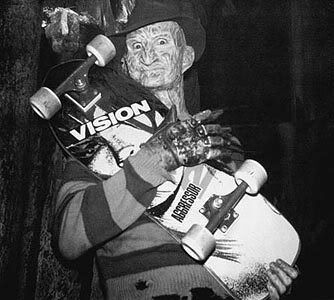 It's finally here. By far

the

best holiday. Halloween. And it's looking like we're in for some amazing weather in Cleveland...forecast calls for 64 and sunny. And it's Friday! Doesn't get much better than that kids. 
Tonight I'm playing a party at Ohio City hotspot
Luxe
. Cleveland corpses come thru and get freaky on the floor. Should be a blast.
I've had a lot of requests to post individual tracks from my Halloween mix, (which btw was featured on one of my favorite blogs -
Slutty Fringe
) so I figured this post would satiate the ghosts and goblins out there. Below you'll find a couple of tracks from my mix, along with some essential creepy jams for any satanic dance seance.
Some jams from my
Halloween mix...
Betrayal (Sorcerer Theme) / Tangerine Dream - EXPIRED
Everyday is Halloween / Dsico - EXPIRED
Magic & Ecstasy / Ennio Morricone - EXPIRED
And some must haves for any
disco bloodbath...
Tubular Bells (Cosmic Mix) / The Champ's Boys Orchestra* - EXPIRED
1, 2 Freddy's Coming for You / Elm Street Kids - EXPIRED
Theme from Friday the 13th Part III / Harry Manfredini &Michael Zager - EXPIRED
*disco version of
The Exorcist
theme song! Heavy.