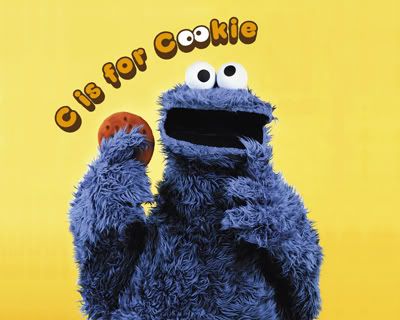 I have no clue as to why I bought this record. But does one really need an explanation to get down with the Cookie Monster?
I've been meaning to rip this record to mp3 for years, and now I can finally share it. My copy is a 2003 re-release from Ninja Tune, but the original tracks were released as a promo 12" on Sesame Street's Children's Records of America label in 1978 to accompany the
Sesame Street Fever
LP
. There are two versions of

C is for Cookie

 – the track posted below is the 'Funky Version' – and it was Larry Levan's first mix. Ever. How random is that??!! 
The flip side of the Ninja Tune release is The Pointer Sister's
Pinball Number Count
. A true children's television classic. The track is actually a composite of numbers 2 thru 12 of the

Pinball Number Count

animations (number 1 was never created for some odd reason) and had never been released before. 
Memory Lane here we come.

C is for Cookie - Funky Version (Special Disco Mix by Larry Levan) / Cookie Monster and The Girls - EXPIRED
Pinball Number Count (DJ Food Re-edit) / The Pointer Sisters - EXPIRED